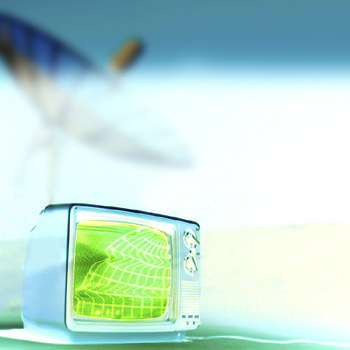 Television Digest Now Available In Pdf Format - Brief Article
Subscribers to Television Digest with Consumer Electronics now can receive their weekly issue electronically in the widely used PDF format, which duplicates the look and feel of the print version on any PC. Delivery of this version will take place the Friday before the Monday publication date. Subscribers who want to replace the print (or non-PDF electronic) versions they now receive may do so simply by sending an e-mail request to tvdinpdf@warren-news.com or calling us at 202-872-9200. "Adobe Acrobat Reader" software, already loaded on most computers and free for downloading from the Internet, is required to read PDF files.
First meeting of DTV task force March 31 was relatively uneventful, with none of parties walking out and "no gunplay," we're told. There had been some concerns that Advanced TV Systems Committee task force to review DTV standard could be established in way that would guarantee particular outcome, and some had said that could cause walkout. Details of meeting in D.C. weren't available. Session was open to all industry participants with exception of press.
Effort to capture DTV signals in difficult RF environments was begun by Advanced TV Technology Center (ATTC), group said. Stored RF data are to be available to DTV set makers to help them improve receiver performance. "Our industry, and DTV receiver manufacturers in particular, has been hampered by the lack of real world material with which they can test their receivers," ATTC Exec. Dir. Paul DeGonia said: "Our target is to assemble a large variety of various interference conditions that will provide an excellent measurement tool for the evaluation of DTV receiver performance." Data will be collected in Washington area, which ATTC said is difficult RF environment with 6 available DTV stations on air. Data will be collected at 30 different locations on all 6 DTV stations. Tests in other cities are to follow. Data will be available to all DTV equipment manufacturers for "nominal fee" to be used to recoup cost, ATTC said. MSTV is participating in project. MSTV Senior Vp Victor Tawil said project "underscores the urgency of improving DTV reception" and will provide benchmark for assessing DTV receiver improvements.
In e-mail to TV affiliates last week, CBS TV Pres. Leslie Moonves said network hopes to become partner with stations "to establish a national digital footprint that, in addition to the television network, can exploit additional profitable opportunities for affiliates and CBS within our available digital spectrum." To that end, and after commenting on several "new entities" formed by stations to use spectrum for datacasting (TVD March 27 p7), Moonves told stations: "We hope that you will not enter into any business arrangements which will preclude your participation in the network's forthcoming plans... We are anxious to create a business model that is mutually beneficial and reinforces our existing network partnership." He said subject will be on agenda for May 30-June 1 affiliates' convention in Las Vegas and asked affiliates for their comments and ideas in meantime.
NBC will take equity stake in World Wrestling Federation Entertainment (WWF) and partner with WWF to start professional football league, companies said. Network will buy 3% of WWF stock for $30 million and NBC and WWF each will own 50% of new league, called XFL, as well as of 8 teams in league. NBC committed to prime-time regional and national broadcasts of XFL games Feb. through April, with first game to be played April 21, 2001. Companies said league would be "100% competitive" and would feature "brand of 'smash-mouth' football that fans crave." Broadcasts will include cameras in locker rooms and helmets, as well as extensive use of microphones in huddles and elsewhere, and league will include many rule changes to speed pace and action. They said XFL is "actively negotiating" with 2nd broadcast partner to complement NBC broadcasts.
FCC Chmn. Kennard and wife Deborah have adopted boy, 3-week- old Robert James Kennedy Kennard, he said in e-mail birth announcement to Commission employees March 28. Baby was born March 4, weighing 9 lb. Message said Kennard is somewhat "sleep- deprived" as result of event.
OpenTV Corp. plans to use its proposed $2.5 billion purchase of Spyglass to crack U.S. cable market for interactive TV software and extend its reach to wireless phones, executives of companies said. They said they plan to integrate Spyglass's Web browser and other Internet technology into OpenTV's interactive TV offerings by year-end, particularly in U.S. They also said they intend to promote OpenTV's full suite of services to Spyglass's client roster, which includes Cablevision Systems, GTE, Microsoft, Motorola, NEC, Nokia, Sony, Thomson. OpenTV, which is about to launch in at least 700,000 EchoStar satellite homes, ended last year with 6.1 million subscribers on 25 cable, satellite and digital terrestrial systems globally but none in U.S.
Backers of Europe's Digital Video Bcstg. (DVB) system for DTV will demonstrate both HDTV and standard-definition in 6 MHz channel at NAB convention in Las Vegas. DVB broadcasts will be on Ch. 29, DTV channel operated by KVWB Las Vegas, and will be receivable by fixed and mobile receivers, backers said. DVB also will demonstrate hierarchical modulation, in which receivers with good receiving conditions receive high-quality signal, but in poorer conditions would receive lower quality, but viewable, signal.
ABC TV Network Pres. Patricia Fili-Krushel -- highest-ranking woman in commercial TV -- has resigned to become pres.-CEO of Healtheon/WebMD, where she takes over April 10. She was network's chief negotiator in reaching agreement last spring with affiliates that stations considered more favorable to ABC and has been "one tough negotiator" in new affiliation contract talks, group executive told us. One of factors causing her to leave ABC was order last year requiring network's top executives to move to parent Disney hq in Burbank by this summer. In memo to employees praising Fili-Krushel, Disney Pres. Robert Iger said she "preferred to stay in New York" with her 2 school-age children. Iger named Alex Wallau, pres. of administration and operations, as interim head of TV network. Fili-Krusehl, 45, has been in job 18 months, moving up from pres. of ABC Daytime. She rejoined ABC in 1993 after executive stints at HBO and Lifetime. Healtheon, which provides Internet links to consumers, doctors, hospitals and other health groups, is 50-50 owned by News Corp. and TV Health Network.
National Football League (NFL) voted to create NFL Internet Network, joint venture with revenues shared among teams. Business plan contemplates streaming full-length football games online, both live and archived. NFL, which has billion-dollar TV contracts to protect, has been among most aggressive content providers in preventing use of its games by Internet sites such as iCraveTV. So far it has streamed games only internationally, not in U.S., but has said streaming rights probably will be explicitly given or denied in upcoming TV deals.
Some 30 representatives of small cable operators visited Capitol Hill March 28, lobbying key lawmakers to strengthen "technology-neutral" elements of bills providing federal loan guarantees for rural local-into-local TV signals. Staging annual "emergency national summit" in Washington last week, American Cable Assn. (ACA) pressed legislators to grant cable operators same access to loans as DBS providers. Group, credited with blocking congressional passage of
rural loan guarantees for DBS providers last fall, also favors limiting guarantee program to unserved areas rather than broader, underserved areas, requiring loan applicants to invest private capital before getting any federal funds and not restricting size of MSOs that could receive loans. Smaller MSOs also want any must-carry obligations eased for DBS providers to be loosened for cable operators as well. "We're not arguing against must-carry," said ACA Pres. Matt Polka, whose group represents 300 smaller MSOs with total of 3 million subscribers in rural areas. "We're saying that if we have to live with it, then at some point satellite has to live with it, too." He said ACA members are "very pleased" with evolution of loan legislation from satellite bill to technology-neutral measure and strongly support current Senate bill, S-2097, sponsored by Communications Subcommittee Chmn. Burns (R-Mont.) and Banking Committee Chmn. Gramm (R-Tex.). While they're less enthusiastic about House bill, HR-3615, before House Telecom Subcommittee, Polka said smaller operators are happy that it now looks more like Burns-Gramm bill. He hopes to see final legislation approved by Congress by July 4 recess.