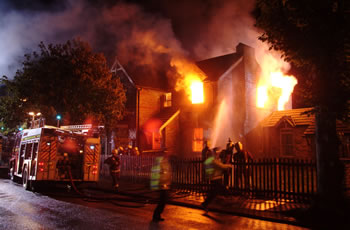 Reality-TV producer: Vernetta Jenkins: salary range: $12,000-$45,000 per series
If anyone had told me I'd sidestep alligators and snakes as a producer in the emerging world of reality television, I never would have believed it. After moving from Chicago and earning a bachelor's degree in communications from UCLA, I set out to work in front of the camera. After a stint as an executive assistant to veteran television producer Suzanne de Passe, I landed a job as a story editor on CBS's Big Brother 2 and loved it. Since then I've produced a number of shows, including Mo'Nique's Fat Chance, The Swan, The Next Action Star, The Cut and The Surreal Life.
"Reality television is a fast-paced world that involves interviewing contestants, creating storylines, directing, sitting in a control room watching as the drama unfolds, and weaving hours of footage into 44 minutes of compelling programming. It's also about being intuitive and working under pressure. Most reality productions that I've worked on lasted only three months, with tight network deadlines, which means no job is too small. I've assisted the crew and photographers, conducted interviews on location in the Florida Everglades, and produced an entire episode in two days.
"Though women are making moves behind the scenes in reality television, men still call the shots. I'm one of only a few African-American women in the executive ranks, and 12-to-18-hour days--sometimes six to seven days a week--are typical. So are difficult decisions. The World Trade Center atrocity occurred during production of Big Brother 2, and we couldn't tell the cast about it right away. But there is an upside. You can work on several shows a year, and no two days are alike. It's also rewarding to develop show concepts and watch them unfold, and to capture a contestant's sheer emotion.
"My suggestion to anyone thinking of embarking on this career is that you study different reality shows. The good ones tell stories. Industry trade publications like Variety and The Hollywood Reporter list a weekly TV production chart. Reality television has a long way to go in portraying African-Americans as more than the stereotypical militant Black man and angry Black woman. My goal is to sell shows that present us more accurately and provide uplifting career opportunities for people of color."
REALTED ARTICLE: So you want to produce a reality show.
LEARN THE INDUSTRY Jenkins worked as an executive assistant before landing a job as a story editor on CBS's Big Brother 2. After that she worked every position to learn the ropes. Reality TV: Remaking Television Culture edited by Susan Murray and Laurie Ouellette details the daily operations of reality television.
READ THE TRADES Variety (variety.com) and The Hollywood Reporter (hollywood reporter.com) include weekly production charts that list the names and addresses of companies and executives that produce reality-TV shows.
JOIN A GUILD The Writers Guild of America, Producers Guild and Academy of Motion Picture Arts and Sciences offer writers, producers and actors networking opportunities, newsletters and jobs with other industry professionals. Membership requirements vary and can include mentor services from a current member or work experience on a production. For more information, contact individual unions: Producers Guild of America (producersguild.org), Writers Guild of America (wga.org), and Academy of Motion Picture Arts and Sciences (oscars.org).
LEARN STORY STRUCTURE Underneath all the competitions, challenges and dates, reality TV is a study of characters. Good shows include riveting characters whose personalities and arcs are developed with each episode, all leading to fulfilling some type of journey. For inspiration, Jenkins recommends the book The Hero's Journey by Joseph Campbell.
INTERN For those with little to no TV background, send resumes to show producers and offer to work a short time without pay. It tells producers that you're willing to do whatever it takes to break in.
>>4 WAYS TO LAND THE JOB YOU WANT
Because it's now an employer's market, Millette Granville, president and CEO of Granville & Webb HR Connections, Inc., an executive-search firm in Atlanta, offers these tips on developing an effective job-search and interviewing strategy:
* WRITE A WINNING RESUME. It should tell who you are, what you know and what you have done.
* DO YOUR HOMEWORK. Learn everything you can about the company before an interview.
* REVIEW POTENTIAL QUESTIONS. Success rides on answering the interviewer's questions effectively.
* NETWORK. More than just collecting a business card and calling the person about a job, networking involves cultivating industry insiders. (For more info, check out Sweaty Palms: The Neglected Art of Being Interviewed by H, Anthony Medley [Warner Business Books] and Winning the Interview Game by Alan H. Nierenberg [AMACOM]).