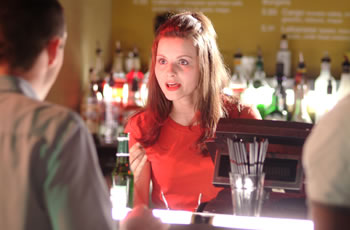 CREATING THE RIGHT IMAGE
Motion Media's goal is to use the diverse talents of our staff members to produce expert information packaging. In our Corporate Division we have produced industrial training and informational films; and in our TV and Entertainment Division, we make documentaries and feature films for general public consumption. A few of our recent projects include:

Trade Show Promotional Message
An eight minute video for AT&T. During the 1996 TELCOMM Conference in Geneva, Switzerland, Motion Media Productions, Inc. produced AT&T's opening popular Opening Video shown on a 80ft X 40ft video wall.

Corporate Marketing/Information
A twelve minute video for Bell Atlantic's Public Sector System, describing the Intelligent Transportation System (ITS). ITS gives municipalities the capability to monitor their entire transportation system from one central location.
An 8 minute film was produced for the Close Up Foundation to help increase the interest of high school students around the country in visiting Washington, DC. Fast-paced, MTV-style editing was used, combined with a rock music soundtrack scored specifically for this production.
Also, AT&T's International Sales Organization called on Motion Media's creativity and project management ability. Motion Media put together two high impact videos in less than ten weeks. One of these was a 2 - minute marketing information video displayed on a Video Wall. This video was the talk of TELCOMM -96 in Geneva, Switzerland. The result of this targeted communication was improved cooperation with the intended audience.
When the International Association of Amusement Parks and Attractions needed a creative 5 minute show opener for their convention, they came to Motion Media. The five minute film, which deftly included the latest accomplishments of the staff, was rated as the best " convention opener" ever.

Special Events Production
Motion Media produced a "Star Trek Style" multimedia video for the Asian Pacific Council (APC), a nonprofit organization that recognizes the excellence of Asian Americans. In addition, Motion Media projected the video onto large screens for a dinner audience of 500, and videotaped the events of APC's annual awards banquet.

Documentary
Motion Media produced a short documentary video for Project HOPE, a nonprofit global health foundation. This program describes HOPE's present and future programs. HOPE's main goal is to assist others in helping themselves through medical training programs worldwide. Motion Media also projected the video onto large screens to an audience of over 500 at an awards banquet honoring their founder, Dr. William Walsh.
Public Service Announcement Videos
When Project HOPE needed public service announcements to educate the international and US about their new directions, they called upon Motion Media again. Motion Media produced 3 top quality, 20 and 30-second public service announcements that aired nationally and internationally on all major networks.
Educational Films
A series of teen informational films. "Date Rape: A Nightmare that Can Be Avoided," "Families are Fun" and "Dealing with Peer Pressure" are scripted and ready for production.

Public Interest and Benefit
In 1993 and 1994, Motion Media won a 4-star rating from ABC CLIO's for an informational video, "Birds and Bees in the Nineties". This film explores AIDS and other sexually transmitted diseases from the perspective of young teenagers at risk. The video and companion book, "The Safer Sex Fact Book," with Tests for understanding and Presentation Guide for parents and/or teachers was written as a tool for Middle-American parents, teachers, and others who find it difficult to tackle the sensitive subject of teen sex with their children. Send email request to Motion Media or call Toll FREE 800-398-3044 to order direct. Company/Library Purchase orders, MasterCard, Visa and American Express are accepted. It can also be found in most libraries in the US and Canada.

Commercial Feature Film
The Phoenix Corporation has chosen Motion Media to produce a feature film entitled "The Shot." It is a love story about a Vietnamese woman and two American brothers. Motion Media is also in preproduction on the dramatic thriller film "Stone Dare", from an original screenplay by Sabina Faye. This a story about a young woman torn between her need for security and her desire to experience the dark side of a man she hardly knows.
Documentary for Network TV

Screen Presentations, Inc. has selected Motion Media to complete post production and market a documentary, "The Soviets: From Lenin to Yeltsin and Beyond," on the history of the Soviet political system. Other TV programs in various development stages are: a unique cooking show, "The Brain - What We Know and Don't Know," " Voyages of the Southern Cross," 52 one hour adventure series about South America and the Pacific Rim shot in film from the home base aboard an authentic turn of the century, 160 foot Tall ship. "The Vietnam War - A 90's Perspective," and "Lady Diver" a series on underwater adventure for cable that features a woman pilot/sailor/adventurer and her 10 year old son .
Animation

ARC chose Motion Media for consultation on the best ways to use multimedia in their internal and external communications. They were shown how short animation and live video could be easily created to produce maximum impact.

Live Recording to Tape

Close Up Foundation awarded Motion Media a two-part contract to record two live, public interest TV programs for later playback over the C-SPAN network; and GRC International chose Motion Media to produce a live video broadcast to shareholders of their 90-minute Annual Meeting. The program included multiple multimedia presentations inserted and broadcast over ISDN dial-up lines to multiple points throughout the US.
Association Membership Promotional
The Society for Technical Communication (STC) awarded Motion Media a contract for the production of a new member promotional video. The objective was to provide a short film to present at meetings with potential new members in attendance. In just 7 short minutes, the video gets across all the the main reasons to join STC, in a very entertaining way.
Short Information Projects

Wilbur Smith Associates and RC-7UP Bottling Company each had short professional video projects that required both shooting and editing, but without whistles and buzzers. These two projects were each turned around in approximately 10 days; and according to our clients, both accomplished their objectives very nicely. No matter how long your program, Motion Media can deliver a creative and professional job in less time and less cost than any of our competitors. We have equipment, training, and experience unparalleled in this area.
Government Motivational And Training Films
Motion Media and Wilbur Smith Associates were contracted by the Federal Highway Administration to write scripts and produce two complex motivational films and one training film for distribution to state and federal highway operations and maintenance organizations throughout the US.
Music Video

Drama City Records used Motion Media's Director of Photography, Joe Casey, to direct a six minute promotional video to highlight their seven talented young performers. It was shot on 16mm film at night on location in Washington, DC. Cuts regularly appear on MTV and other cable channels.

Turn-Key Fundraising System

John Benko BAT-A-THONSM
Motion Media Marketing used modern market research techniques to assist Perpetual Funding Corporation develop a complete turn-key fundraising system. Motion Media Corporate Video produced six instructional videos, wrote and edited six training manuals to be included in the Youth Baseball League fundraising system package. A promotional video was included along with marketing support literature. An associate company M3Company, assisted with the developed the John Benko BAT-A-THONSM turnkey sales Web Site. Motion Media shot documentary footage of John's Talented Country Music Star - Katy Benko for a future National TV Special.