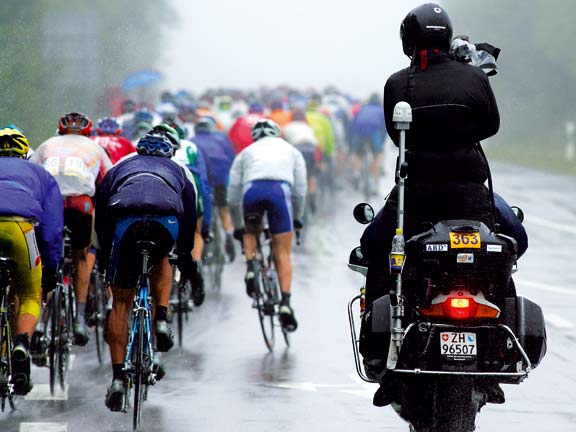 Black Enterprise: much more than a magazine: at the ripe old age of 35, BE keeps expanding its multimedia franchise, and there's no end in sight
Why? Because in business, new tricks are the hot commodities that stand between a company's viability (otherwise known as profitability and growth) and its demise.
That's why BLACK ENTERPRISE, heeding the same advice it's been giving other companies via BLACK ENTERPRISE magazine for 35 years, is constantly infusing new life into itself through the development of new products and services and the innovative retooling of the not-so-new.
Although the company is still best known for its flagship product, BLACK ENTERPRISE magazine, for more than a decade it has been expanding its brand to encompass a range of products that broadens its reach while remaining consistent with its fundamental mission--to give African American businesspeople the information, expert advice, and inspiration they need to succeed.
Most recently, the magazine and Clear Channel, the largest owner of radio stations in the country, signed a deal to produce the Black Enterprise Magazine's Keys to A Better Life radio report using well-known talent to host the show while BE editors provide the advice to help listeners live a better financial, professional and healthy life. Cedric the Entertainer was the program's inaugural host, followed by best-selling pianist and R&B singer Alicia Keys. Look for new on-air talent, such as Academy Award-winning actor Jamie Foxx, to host upcoming reports.
The new report started to air over 60 Clear Channel stations across the nation, including its flagship station, Power 105.1, in New York. The report features timely advice from BE editors as well as business professionals, financial advisers, and health experts. Martha Buckner, the program's producer, will also serve as the health editor. Launched on July 1, this new venture gives BLACK ENTERPRISE an opportunity to reach more than 4.5 million listeners each day, including a coveted younger audience that includes the hip-hop community.
"There are a lot of people within the hip-hop community who are reaching out to find a way to get into business for themselves, or find out ways to save money, or buy a home," explains Buckner. "They want to be educated on consumer issues and health issues, small business issues, and they want to know how to save for retirement."
Having information on these topics delivered by popular personalities who are not generally associated with either business or news is "genius," according to Derrick Godfrey, vice president of new business development for Earl G. Graves Ltd. "It makes so much of the information we disseminate through the magazine and through blackenterprise.com and the Black Wealth Initiative accessible and inviting to an audience who may not have explored those more conventional products."
This innovative approach to packaging black business news has proven to be as appealing to the entertainers approached about doing the voiceovers as it is to the concept's creators. "The artists we've signed so far couldn't be more excited about having the opportunity to get on the radio and talk about wealth creation and money management," says Godfrey.
"They want to show that they're not one-dimensional but that they have a more global view of the world and that, just like BLACK ENTERPRISE, they care about the future of our people."
The deal, according to Buckner, has been a little more than a year in the making. At the 2004 Black Enterprise Entrepreneurs Conference hosted by General Motors there was an initial meeting between Clear Channel and the executives of the magazine. A year later, the new radio report team put together a pilot that went well.
For now, the Black Enterprise Magazine's Keys to A Better Life report will air twice a day, during the morning and evening commute. Unlike the previous BLACK ENTERPRISE Business Report, whose one-minute segments aired five days a week, the new reports will air six days a week (excluding Sundays) at 45 seconds a piece. The content of the new radio report has also been expanded to include more health-related news and advice, which is so critical to the African American community.
The goal, according to Buckner, is to see the report expand to, perhaps, three times a day. With the exception of health reports, the rest of the radio program will mirror the magazine's coverage of business news, consumer news, and personal financial advice and strategies.
RELATED ARTICLE: So, what else is new?
While the BLACK ENTERPRISE Clear Channel collaboration is certainly newsworthy, it is the latest in a long line of exciting changes that has transformed BLACK ENTERPRISE from a magazine publishing company into a multimedia corporation.
By the mid-'90s, rapid-fire changes in technology, the economy, and business necessitated new approaches to doing business and a fresh vision for the future of the company. Toward that end, BE Online was launched in ]996, offering original content, business tools, and resources to African Americans seeking such information in an online format. The site has since been expanded and retooled. Today, www.blackenterprise. com is the virtual desktop for African Americans, designed to provide the latest business news and networking opportunities for people of color seeking to do better, know more, and have more in their lives.
BLACK ENTERPRISE Books, launched in 1997 in collaboration with John Wiley & Sons Inc., published 10 titles over the next five years. These included four success guides, the BLACK ENTERPRISE Wealth Building Journal, and five hardcover books. These books offered groundbreaking insight into many of those topics that BLACK ENTERPRISE covered first and still covers best, such as Titans of the BE 100s: Black CEOs Who Redefined and Conquered American Business, by Derek T. Dingle, and In the Black: A History of African Americans on Wall Street, by Gregory Bell.
In January 2000, The Black Wealth Initiative was introduced. This comprehensive wealth-building program, featuring BLACK ENTERPRISE'S Declaration of Financial Empowerment (DOFE) principles, was the first of its kind. It is anchored by 10 principles that were developed exclusively for BLACK ENTERPRISE to help people make a commitment to amassing wealth while guiding them in the specifics of how to accomplish these goals.
However, it quickly became apparent that more had to be done to reach BLACK ENTERPRISE'S strong base audience, as well as to expand it. "After 33 years of publishing the magazine, we had just the magazine, blackenterprise.com, and a few other outlets," Godfrey recalls. "The issue then became: 'How else do we disseminate the information we offer and that is so needed by African Americans across the country?' Radio became the next component in our multimedia strategy. And it quickly became clear that, not only did we need to be on the radio, we needed to be on TV."
The BLACK ENTERPRISE Business Report for radio was launched in April 2003. It was followed, in November 2003, by The BLACK ENTERPRISE Report on television, in partnership with Chicago-based Central City Productions.
This syndicated weekly half-hour series, hosted by Stephanie Elam and Darryl Dennard, provides minority business coverage, investment tips, career guidance, personal finance advice, entrepreneur profiles, stock market updates, and lifestyle information to viewers across the country.
"This is a great venue for us and the show is doing extremely well," says Godfrey, who hints that more may be on the horizon. "Television is growing and the potential for us to do more programming is enormous."
Log on to blackenterprise.com to find where the Black Enterprise Magazine's Keys to A Better Life and BLACK ENTERPRISE Business Report for TV is broadcast near you.
--The Editors